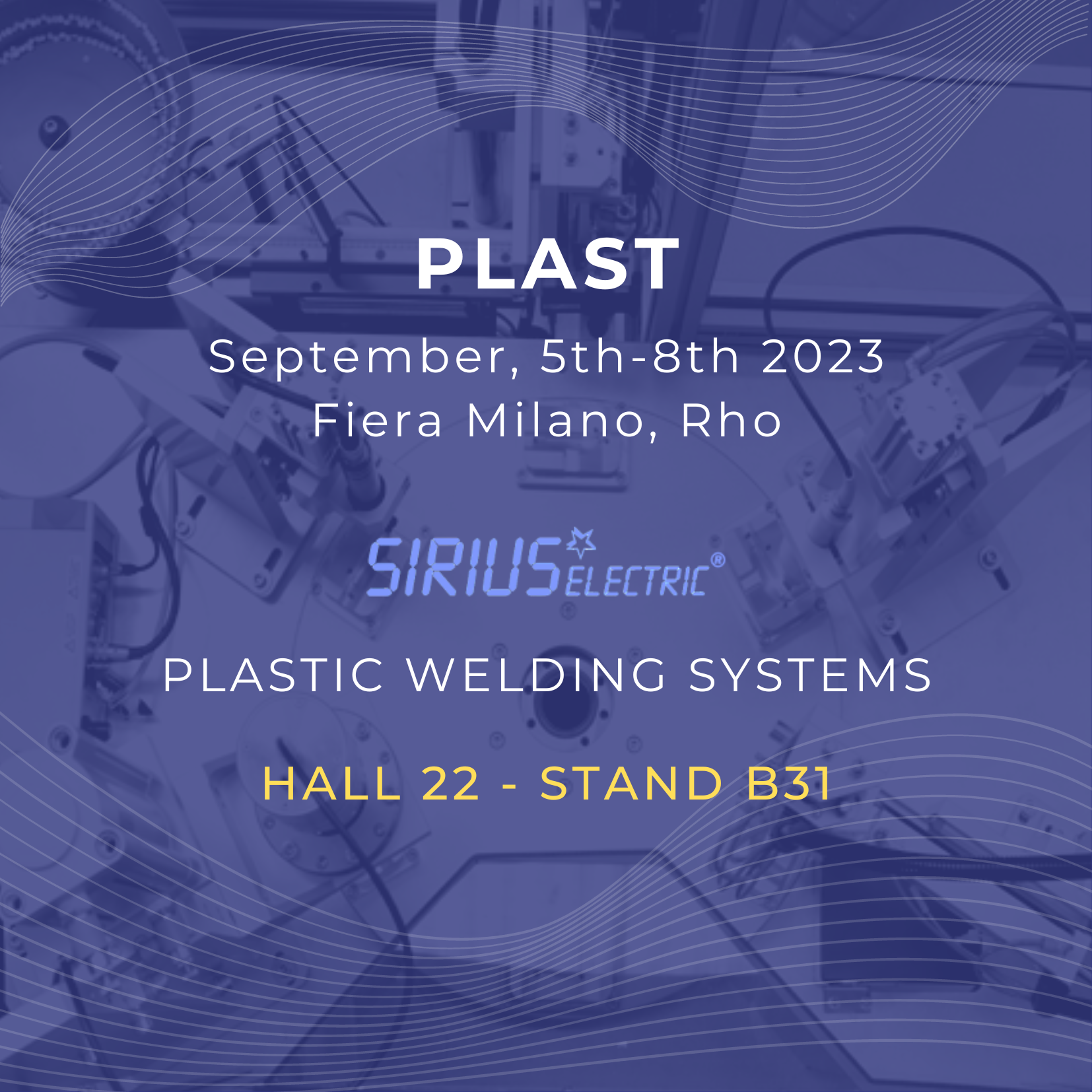 Sirius Electric at Plast 2023 exhibition
From 5th to 8th September 2023 we will join Plast 2023 at Fiera Milano (Milan), one of the most important trade fairs in the world for the plastics and rubber industry. Meet us at Stand B31 Hall 22 to see our new line of ultrasonic, vibration, spin welding and hot plate welders, with full electric movements and equipped with brushless motors.
Our new line of welders with electric brushless motors
Our new line of welders with electric movements allows to solve the most common issues related to pneumatic systems. The thrust pressure is a basic parameter for ultrasonic, vibration, hot plate and spin welding. There are several applications which require high precision and process reliability, and in this context the variability of pneumatic systems can negatively affect the welding process. The use of electric brushless motors and their drives allows to considerably improve the quality of the final weld. Indeed, the welding depth, speed and thrust pressure can be controlled in a very accurate way. These parameters can be also saved as a welding program which can be recalled at any time without the need to repeat the initial setup.

At Booth B31 – Hall 22, we will present:
The new Dynamic Ultrasonic Welder, with 0,75 Kw – 2,4 Nm brushless motor – travel 400
mm. The welder is equipped with the new ultrasonic generator SE Series, 2000 Watt – 20
kHz;
The VSP 405 Circular Vibration Welder, with 3,5 Kw brushless motor and welding depth
control;
The SWP 06-2023 Spin Welder, equipped with new 10" touch screen panel and Auto Tuning System which allows to calibrate the brushless motor gain according to the dynamic load of each spindle. With this welder machine, the welding chart can be displayed on the control panel. We will also showcase the new SWP Mini, a cutting-edge and totally electric spin welder as a solution for the weld of small parts. This technology is particularly suitable for medical industry, where precision and accuracy of the machine are top requirements;
The new D 2023 Hot Plate Welder, with brushless motors and relative drives for the horizontal movement of the plate and of the upper mould. These welders are available in different sizes according to the dimensions of the parts to weld.
---